1. Choose Machined Blow Bars
Image #1
An image of well-machined blow bars from AMCAST.


Image #2
This is a competitors blow bar. Notice that there is little or no machining left to the right of the ridge. In most cases, blow bars should be machined where they contact the rotor (or should at least be flat and straight). Notice the gaps under the straight edge showing light.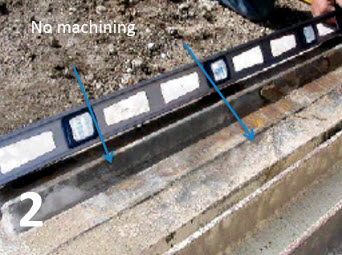 This does not support the blow bar properly and can lead to breakage!
2. Know the Different Blow Bar Grades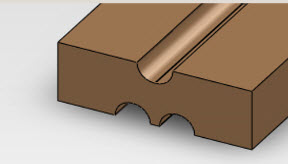 Grade "C" Blow Bar

Poor shape (Average 4" thickness blow bar but with three deep grooves causing a poor rating)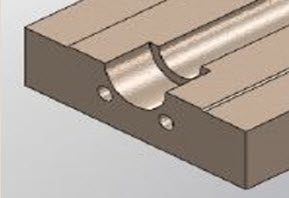 Grade "C" Blow Bar

Poor shape (Less than average thickness blow bar. 3.4" with a single deep groove causing a poor rating)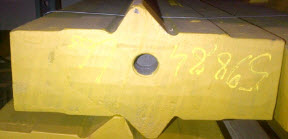 Grade "A" Blow Bar

Excellent shape (Thicker than average thickness blow bar 4.5", with positive noses to locate blow bar)
3. Be Careful when Choosing a Medium Chrome Alloy
We have to be careful when we specify "Medium Chrome" and understand what family of alloys is to be used.

We have two alloy classifications for blow bars:
Low chrome 3-5% Martensitic steel, a very tough alloy
White iron, this includes 15% chrome "medium chrome" & 25% chrome "high chrome."
Note:
15% and 25% white iron are very similar alloys, and their physical properties are almost the same (ex. resistance to breakage).
White iron is fragile compared to low chrome martensitic steel.

When customers ask for "medium chrome" always be aware that medium chrome is NOT halfway between Low chrome and High chrome, it is much closer to high chrome. So, medium chrome is not a general purpose blow bar and cannot do the work of both low & high chrome. It will do the work of high chrome but is at high risk of breakage when subjected to typical low chrome applications. Medium & High chrome alloys (white iron) have great wear properties, but you need to stay away from heavy duty applications such as large feed size (primary machine) or very high feed rates. WRI (ceramic) can be added to any of the alloys outlined above to solve this problem.